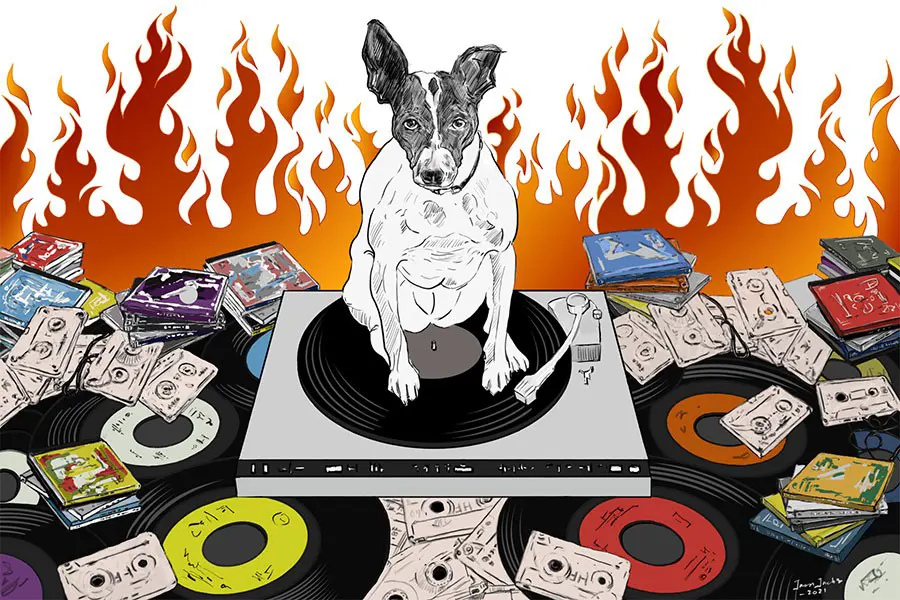 It has been awhile since I've knocked out what has been in rotation music-wise. There is only so much time in my day, and sculpting has eaten into a big part of the free-time I have at my disposal. The unfortunate reality is that I cannot do it all, so I find myself having to trade one pursuit for another. I've been focused on sculpting. Thankfully, sculpting, like most any other art I've pursued, lends itself well to music listening. And since the last volume of Heavy Rotation, there has been a lot of music.
The Whores
"That's a terrible name", my wife says. I don't know. Most band names are stupid while at the same time being kinda cool. I think it just depends on how you look at it. I mean, think of the band, Korn. If you've never heard of Korn, or heard their music, or knew anything at all about them, you'd likely think that was a terrible band name. But knowing the band, and their music, and their aesthetic, you understand that it just works. Anyway, this, categorically, falls into rock, but it's sludgy, fuzzy, and grungy at times. Some seriously slamming rhythms. It definitely has a 90's and early 2000's feel. No guitar solo's that I can recall. The vocals are meaty with a good metal gruffness punctuated by some great scream vocals reminiscent of Chino from Deftones. I pretty much picked up their whole discography in one swoop after listening to Ruiner and Clean. Some highlights below.
---
Tropical Fuck Storm
I love TFS and all of their weirdness, and Gareth's lisp, and the backing singers, and all of it's chaos and discordent, falling apart notes and pieces stretched and pushed in such weird directions. And in all of that, Gareth is a great lyricist. You might not agree, but damn, his lyrics hit me in my center. Now, I think you have to have an open mind with this band, but who knows...maybe you don't. Anyway, a couple of tracks I really love below. Aspirin (Slight Return) is such a favorite of mine. I love it so much more than the original track. I feel this version has a better flow. The way the lyrics are sung on the album release feel choppy, and the timing forces. Also, the lyrics are allowed to speak in a different way in this alternate version. I've been picking up TFS's albums and Gareth's stuff here and there. So, check it out. If you find your interest piqued, then search them out and listen some more.
---
IDLES
IDLES was another band that I swooped in and scooped up their discography in a matter of a few weeks. I had listened to Crawler a few times, then had let it lay for awhile. Some time later I came back to them, giving them more and more listens. I was surprised how very progressive this band is, for example, singing about toxic masculinity. And while that's all good, first and foremost, they fucking jam. Categorically, post-punk I guess. Lots of good listens - with Crawler and Brutalism at the top for me album-wise. Some selections below.
---
Soul Glo
Insanely fast lyrics, high energy, punk / sream metal / hardcore / rap...no fucking idea what you call that combination? Maybe just the straight up modern definition of punk? No matter what the label, this shit is fucking intense and I love it. As usual, snagged this on Bandcamp.
---
Protomartyr
I came across Protomartyr a few years ago and immediately fell in love with this band. The lyrics, that midwesteren, rust-belt, Detroit, post-punk, working class feel...it grabbed me. My words do this band no justice. Protomartyr is an amazing band. You have to listen to them to know. They dropped a new album right at the start of the summer and I had the motherfucker in my hands on release - a great album. A mix of stuff from over the years below.
---
Wye Oak
I've written about Wye Oak in a previous volume of Heavy Rotation. They dropped an album early this summer comprised of a number of previously released singles supported by some new, unrealeased, tracks. It's a sweet, mostly understated album, with beautiful vocals.
---
Sigur Rós
Sigur Rós dropped their latest album only a few weeks ago. While this is not breaking any new ground for them, it is still a wonderful album. I find myself going back to it again and again.
---
Gareth Liddiard
Here's Gareth again. He's set up some real estate on this page and in my ears the past few months. Only a few short weeks ago he dropped a reissue of a solo release from 2010, Strange Tourist. This is a stripped down set, just acoustic, vocal, lyrics. Much of the same that I said about TFS applies here as well. What grabs me about this compilation? The lyrics. I like how fluid they are, and his rhyme schemes seem so convesational and natural. Maybe it's an acquired taste...I don't know...but it speaks to me.
---
Thom Yorke
The Suspiria soundtrack has been out for some time, and I recall when it first released listening to bits and pieces of it. But I didn't pay much attention. I went back to it recently to find those song tracks to be great tracks I was missing out on. It's as simple as that - great tracks. Two below.
---
Radiohead
How the hell, after all of these years, could a Radiohead track have existed for mass consumption that I hadn't heard? Somehow, in all of the years of diligently collecting every album, every single, every single b-side, I somehow missed a whole issue that was right out there in front of my face. Better late then never I guess.
---
The Armed
I just discovered The Armed this past week. It always amazes me, with the amount of effort I put into music discovery, how a band like this, whom have been around 12 or so years...I just completely missed. I let my music taste guide me as it evolves over time. I can only surmise those avenues I tred previously led me out of the orbits The Armed was revolving in. Nevertheless, they have completely captured my attention, to the point of obsession. I love the chaos and creativity of this band. The music has manic energy, chaos, noise, great fucking screams and punctuations, and mixes a wide range of genere's into a punk / metal / hardcore soup that just make sense. Picked up 3/4 of their discography a few days ago, and will grab the rest within the next week. Yet, the latest album leaves me cold. All of their releases up to the latest make sense to me, and then this one...it's fucking awful. I think there is one track on it I like. I can't figure out if they're serious, or if it is a joke (I'll add that track). I'm still trying to figure that album out, and who knows, maybe it will reveal itself and I will understand. Until then, some sample tracks below.